Revered by many, reviled by some, technical analysis is the art and science of deciphering price activity to better understand market behavior and identify trading opportunities. In this accessible guide, Jack Schwager-perhaps the most recognized and respected name in the field-demystifies technical analysis for beginning investors, clearly explaining such basics as trends, trading ranges, chart patterns, stops, entry, and exit and pyramiding approaches.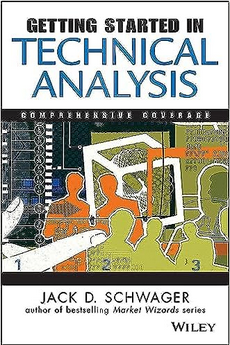 The book's numerous examples and clear, simple explanations provide a solid framework for using technical analysis to make better, more informed investment decisions and as the basis for mechanical trading systems.
Along with Schwager's invaluable trading rules and market observations culled from years of real-world trading experience, Getting Started in Technical Analysis offers in-depth coverage of:
Types of charts-bar, close-only, point-and-figure, candlestick.
Chart patterns-one-day, continuation, top and bottom formations, the importance of failed signals.
Trading systems-trend-following, counter-trend, pattern recognition.
Charting and analysis software-price data issues, time frame/trading style considerations, software research.
He planned trading approach-trading philosophy, choosing markets, risk control strategies, establishing a trading routine.
From the Publisher
Technical analysis is the art and science of deciphering chart patterns in order to better analyze and predict prices of a given security. Jack Schwager demystifies technical analysis for investors, introducing them to oscillators, price-and-time charts, on-line charting applications, and much more.
Mr. Schwager is a recognized industry expert in futures and hedge funds and the author of a number of widely acclaimed financial books. He is perhaps best known for his best-selling series of interviews with the greatest traders and hedge fund managers of the last three decades: Market Wizards (1989), The New Market Wizards (1992), Stock Market Wizards (2001), Hedge Fund Market Wizards (2012), The Little Book of Market Wizards (2014), and Unknown Market Wizards (2020). A revised edition of his first book, A Complete Guide to the Futures Markets (1984), was published in 2017. His other books include Market Sense and Nonsense (2012), a compendium of investment misconceptions, and the three-volume series, Schwager on Futures, consisting of Fundamental Analysis (1995), Technical Analysis (1996), and Managed Trading (1996). He is also the author of Getting Started in Technical Analysis (1999), part of John Wiley's popular Getting Started series.
Mr. Schwager is a Co-founder and Chief Research Officer of FundSeeder, a firm that seeks to find undiscovered trading talent worldwide via its trader platform (FundSeeder.com), and a Co-founder of FundSeeder Investments (FundSeederinvest.com), which seeks to connect properly regulated traders with sources of investment capital. Previously, Mr. Schwager was a partner in the Fortune Group (2001-2010), a London-based hedge fund advisory firm. His prior experience also includes 22 years as Director of Futures research for some of Wall Street's leading firms, most recently Prudential Securities.
Mr. Schwager is a frequent seminar speaker and has lectured on a range of analytical topics including the characteristics of great traders, investment fallacies, hedge fund portfolios, managed accounts, technical analysis, and trading system evaluation. He holds a BA in Economics from Brooklyn College (1970) and an MA in Economics from Brown University (1971).