Forex Fundamental Analysis - The Essence of Trading: Forex Trading Method of Analysis for Experienced Traders and Beginners Explained in Simple Terms, Become a Profitable Forex Trader. A phrase attributed to Albert Einstein states: "Insanity is doing the same thing over and over again, but expecting a different result." This is what most Forex traders do. They try to find a strategy that they can use repeatedly, one that follows one or more indicators drawn on the chart.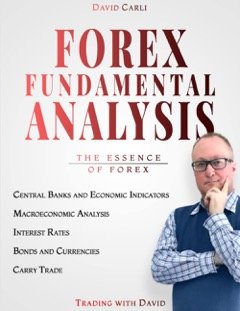 Hi, I am David; I have over 25 years of experience in financial markets and two as a fund manager, and through this eBook, I will teach you how to trade in the Forex market, just like a fund manager, but from your home studio.
They do this without realising that no matter what indicator or kind of technical analysis they use, they continue to trade in the same way: they wait for the indicator or chart, reading the past so it can tell them what to do. But they soon start losing money. So, they change indicator and/or type of analysis, only to realise immediately that even that doesn't make them money. Then they change again, entering a continuous loop that only ends when their account has reached zero.
With "Forex Fundamental Analysis" you will discover a new way of seeing Forex and of analysing a currency pair. You will learn the dynamics that really move currencies. Finally, you will discover how to trade profitably.
You will understand the motivations behind specific movements; you will get a clear analysis of each currency, and you will know how to use it to your advantage. It is not certainly an indicator that makes a currency pair rise or fall, but a much larger force.
You will learn a correct and well-defined method to trade a currency pair. You will follow the trail of the big speculators, by distancing yourself from the mass of small fish that every day get eaten by sharks that swim in the "Forex ocean."
A method of analysis that comes from over 25 years of experience in financial markets, even as a fund manager for a small Italian investment bank, and which I imported and adapted into my way of trading, and that you too can use to your advantage.
At first glance, some of these concepts may seem complicated, but I assure you that with time and practice you will assimilate them without any problems, and it will become natural to apply them in your Forex analysis.
You just have to stop seeing a currency pair as a single entity, like a price, and start, instead, to see it as two opposing economies because a currency is the mirror of its economy. You do not have to see Eur-Usd as a single market, but as the Eurozone economy versus the American economy. This concept is the starting point of the entire analysis that you will learn by reading this eBook.
"Forex with Fundamental Analysis" is an eBook that will change your way of trading in the Forex market.
What you will learn reading "Forex Fundamental Analysis":
how to compare two economies;
how to trace fundamental supports and resistances;
how to read reports and minutes;
how to make a macro-data analysis;
how to correctly analyse a currency pair;
the bond-currency relationship;
the interest rates;
the carry trade;
how to use subjective probability to select the best trade entry;
how to set the stop-loss using the Value-at-Risk;
the essence of Forex
and other important aspects with clear examples.
If you are a novice or have little experience with Forex trading and would like to learn this activity, or you are a trader that, despite continuous study and constancy in following the currencies, is not fully satisfied with the results obtained so far, "Forex Fundamental Analysis" is an excellent starting point for your career as a Forex trader.
David Carli
After 25 years of experience in this field, two years of being a fund manager, and publishing numerous books, I am fully equipped to help you transform your financial life. My studies at the University of Pisa and my passion for this work prepared me to live my life as a full-time trader and educator. I love teaching people how to break the chains of limited knowledge and create the financial life they want to see.
I wrote my books for the sole purpose of sharing my knowledge to help you and others avoid the mistakes that I suffered when first taking responsibility for my finances. Every month I help hundreds of individuals in my inbox by asking a wide range of financial questions. I have made it my personal mission to assist others by teaching them how to improve their money management.
I love connecting with people and helping them accomplish their financial goals. I help because I want to and because I believe everyone has the right to control their money and investments, including you. I know it is possible because I have done it myself, and I know you can do it too.